Wing Foiling in Lanzarote
Lanzarote Wing Foiling Overview
The conditions for wing foiling  in Lanzarote are reputed as being along side the very best in Europe.
Warm water, consistent winds  a wide variety of beach and sea conditions all combine to make this a very worthwhile destination.
Over the past two years Wing Foiling has deservedly grown rapidly in popularity. Many of the sports new proponents are kite surfers and windsurfers applying their skills to this new and rewarding water sport.
Equally many people are entering the sport with no similar experiences from other sports.  By taking small steps along the learning path new comers are soon enjoying the sport too.
Participants are amazed by the performance levels hydro foils have to offer. An open ocean is now a huge playground of rolling waves that can be surfed. Each rolling swell line can be linked together for an almost endless wave. Crowded locations are a thing of the past and the whole ocean can be utilized and enjoyed.
Thanks to the progress in Hydrofoil and inflatable kite design, Wing Foiling became what it is today. Super efficient hydro foils fly across the ocean with little effort.
A Hydrofoil is one of the most efficient ways to move across the ocean, illustrated by the many other wind powered water sports that have moved over to using hydrofoils.
Let the team at Wingfoilinglanzarote introduce you to the wonders over the sport.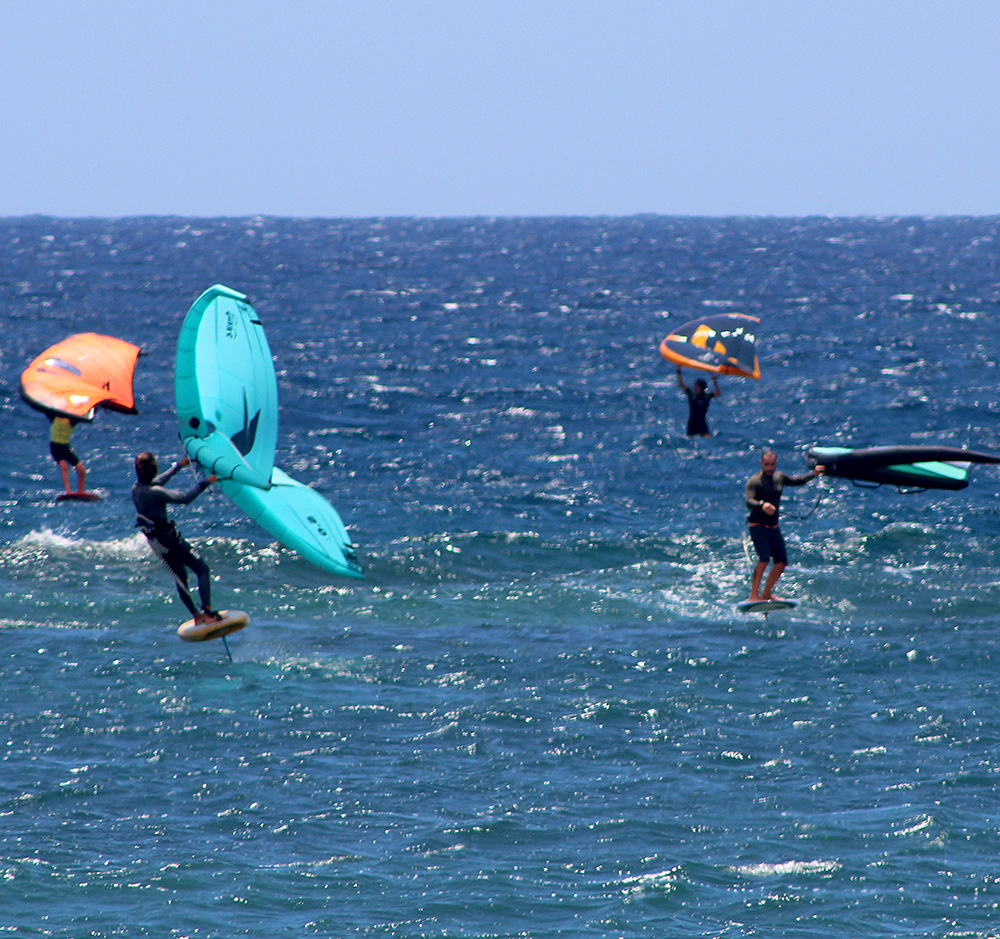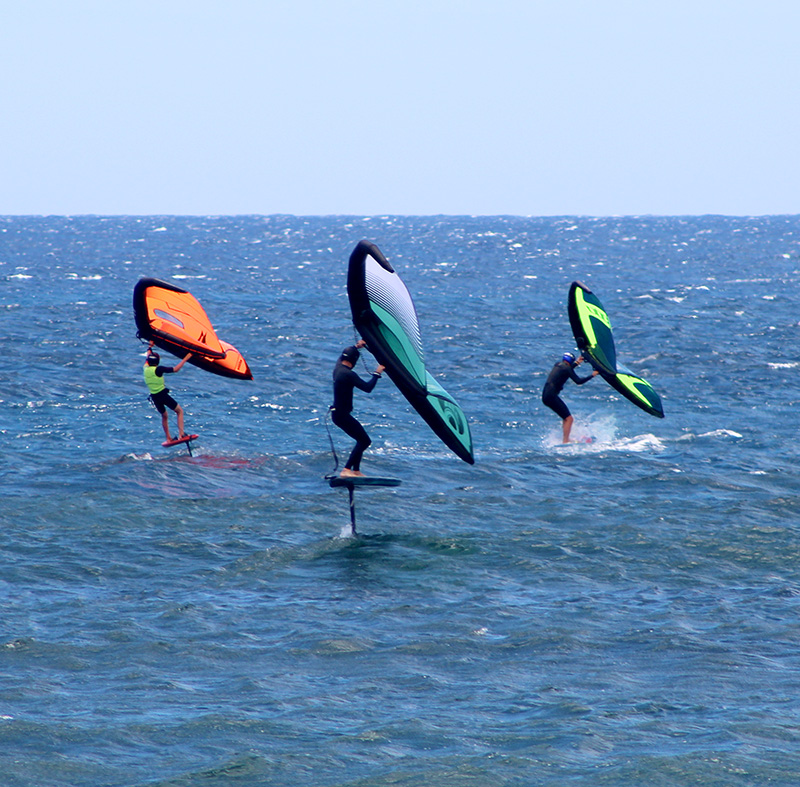 Wing Foil Lessons in Lanzarote
Learning Wing Foiling in Lanzarote.
Taking some wing foil lessons in Lanzarote will be your surest way to quickly learn the sport
Reliable year round wind and ample beaches supply consistent locations to learn, practice  and perfect your wing foil skills.
Our experienced and skilled wing foil instructors will get you up and foiling in no time. A wing foil course will start by introducing you to the theory, going over safety measures then onto kite control and foiling in both directions.
Courses start from as little as 100 euros.
We supply the wet suit, hydro foil board and actual hydro foil itself. Leashes and safety gear also included. Once you book your course we will check conditions and forecasts then arrange a time and place to meet and get you started.
Through years of experience we know the best and fastest approaches and techniques to teach you.
Once you reach a capable level of Wing Foiling Lanzarote has some perfect locations and waves that the new and experienced wing foiler's can catch and surf.
Our door is always open for any top up lessons, advanced techniques, equipment advice, locations and sales advice plus any other questions you may have.
Once you see the sport in person it will be  easy to understand why it is rated as one of the fastest growing water and sea based sports.
For Wing Foiling Lessons in Lanzarote
Contact us on
lanzarotecontact@gmail.com
Wing foiling takes full advantage of super efficient modern hydrofoils and additionally harnesses the free and silent power of the wind. Easy to get started and with lots of room for improvement the rewards will continue for years to come.
The sensation is often likened to low level flying. Holding the wing to gain enough speed to lift you out of the water and on to the hydrofoil is an amazing sensation.
Once up on the foil the very low drag component makes it easy for continued gliding just a few feet above the water blown along by even a very light wind.
The smallest of waves or even rolling swell can be harnessed by the hydrofoil and surfed.
There are three main types of wingfoiling:-
1 – Slalom or speed – Participants race along a set course around marker buoys.
2 – Surfing – Rolling waves surfed and maneuvered upon. The kite or wing is used to catch the wave. Once on the wave the kite is held by the handle at the front in a low drag mode. The energy from the wave itself is used to propel the Wing Foiler along the wave. Off the lips, cutbacks and aerials are just some of the maneuvers possible.
3 – Freestyle – Over a timed period on flat water the wing foiler completes a series of radical maneuvers. Current heat winning movements include back flips and spins.
The very best way to get started Wing Foiling is to book some lessons with one of our experienced instructors.
There are a few key elements to being able to do this sport, with an instructor you can save you self many hours of frustration and even injury.
We study the local weather forecast and using our  knowledge of Lanzarote identify the best place for your lesson.
You will receive instruction on safety elements and an explanation of wing foiling theory before heading out. We then give you with all the wing foil equipment instruction and feedback. By using our step by step approach you will soon be enjoying this amazing water sport.
Book your lessons by sending us an email to
lanzarotecontact@gmail.com
On Lanzarote wing foiling can be practiced on west coast beaches like Famara right across the island to many east coast beaches like Los Charcos in Costa Teguise all the way down to the southern coast and Playa Blanca. There are numerous other beaches and off coast locations on the island for you to wing foil as well.
The wind in Lanzarote often comes from the North Easterly trade winds predominant and reliable in Summer plus local thermic winds created by the warm sun over the land all year round.
The Foil Board – This is your platform to stand and and control your trajectory on and above the water. Beginners start with a more buoyant board, around 20 liters more than body weight in kilos. A person of 80kgs would aim for a board of at least 100 liters.
As you progress board sizes and volumes can decrease allowing for faster maneuvering but harder starts.
The kite or wing – This is how you get your forward movement from the wind. The leading edge and strut are inflated to give the wing rigidity. Holding on using handles you angle the kite into the wind and start to move. The more you angle the wing across the wind the faster you go. Larger and smaller wings are used in different wind conditions. Average wing size for beginner in a mild wind is five square meters.
The Hydro Foil – Similar in function to an aeroplane wing plus the mast part which gives the separation from the board. The foil attaches to the board via two track inserts which allow for forward and back positioning adjustments. Larger sized slower and more stable foils are used for learning. Faster more efficient foils for improved riders.
Ancillaries – Leashes to attach the board to ankle and kite to wrist. Tools for foil attachment and assembly.
Safety equipment – Many learners use crash helmets and body padding to protect from impact from board and foil
There is enough information on this website to inform you of all the equipment necessary to start wing foiling.
You can book  your own lessons and quickly get involved in this exciting fast growing sport.
After your lessons if you decide you want to continue with the sport we an assist with equipment advice and purhase.
You will need  a wing foil board, hydro foil and the kite or wing plus accessories. We can sell some of the best quality wing foil equipment. Available brands are  F-One, Cabrinha, Lift foil, plus Hydro wing foil boards.
If you have any questions or need advice just email us, we are always happy to help.
Wing Foiling
Getting started in brief
Winging around Lanzarote
There are many amazing locations to Wing Foil and learn wing foiling on Lanzarote.
Depending on wind direction and the time of day there is often a good place to foil.
From beginner to advanced Lanzarote has a location to suit every level.
Get in touch and book your lessons now.
Testimonials
What our clients think
An amazing few days of lessons. From not having a clue to actually being able to fly was amazing. I now have the knowledge and skill to buy my own equipment and move forward. Totally recommended
David Matin
So glad I did this. Saw some guys foiling and had to give it a go. There is a lot to learn and the process would have take a lot longer with out these valuable lessons. If you want to get the best start this is the way to go.
Phil Rotherson
What an amazing sport. Cannot believe I can actually do it. Took a while but well worth the effort. Thanks to these guys for showing me the way.
Judith Richards